CEND's 9th Annual Symposium: A Recap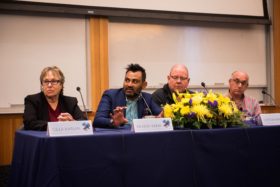 By: Allison Terbush, Coscoy Lab
Photo credit: Katherine Chen, Vance Lab
It is estimated that up to one-third of the global population is infected with Mycobacterium tuberculosis, the infectious agent of tuberculosis disease. Tuberculosis itself, and in combination with other complicating circumstances such as HIV infection, is among the leading causes of death world-wide. Despite this staggering prevalence, available funds fall significantly short of the cost of caring for tuberculosis-infected people and many countries depend heavily on international donations. Additionally, tuberculosis research only receives a fraction of the funds dedicated to cancer and other infectious diseases.
This year's Symposium, entitled "Deconstructing TB: Insights from Fundamental Research", came on the heels of the Pacific Tuberculosis Pathogenesis and Host-Response Research Retreat (PacTB) which was also hosted by CEND. Many of the symposium attendees had already been taking part in talks and discussions at PacTB for the past two days, and a friendly, excited energy from being connected with so many like-minded researchers filled the auditorium. The impressive group of speakers covered topics ranging from basic M. tuberculosis biology to epidemiology and the funding pipeline for tuberculosis-related research. Innovative techniques and methods were highlighted, and creative problem-solving was repeatedly emphasized as a critical part of addressing the tuberculosis epidemic.
It was unanimously echoed throughout the day that funding dedicated to tuberculosis research and treatment efforts is dire. Gilla Kaplan, representing the Bill & Melinda Gates Foundation, shared that a leading strategy to increase tuberculosis funding is to use data and figures to demonstrate for tuberculosis-burdened countries the cost-effectiveness of investing in tuberculosis research to decrease new cases. For now, there is an emphasis on using currently available funds in the most efficient way possible and begin to close the largest gaps in tuberculosis diagnosis and treatment.
However, participants seemed optimistic about the ability of the tuberculosis community to address urgent questions despite limited resources. Clifton Barry from the NIAID spoke about using imaging techniques developed for cancer to observe tuberculosis lesions as an example of how tuberculosis researchers can take advantage of technological breakthroughs pioneered elsewhere in the sphere of biomedical research. Another common theme was to creatively investigate difficult, tuberculosis-specific problems. Eric Rubin's lively talk about his efforts to install kill switches and other fail-safes into M. tuberculosis to generate strains that are safe to study in humans illustrated one such radically creative strategy. Finally, symposium attendees expressed encouragement during the panel session about how collaborators are generally eager to lend their expertise to the tuberculosis cause.
The symposium concluded with a poster session where the most cutting edge research is put on display. It is apparent that the tuberculosis community, while small, is dedicated and passionate about their work towards eradication of this deadly pathogen. And while working on tuberculosis is difficult, researchers are increasingly reaching out and finding enthusiastic help from many areas of biomedical research. In line with the mission of CEND, the symposium brought together an incredibly diverse and talented room of people from both tuberculosis and other infectious disease fields.