Seventh Annual Bay Area Symposium on Viruses - MAY 2017
The Bay Area Symposium on Viruses is an annual one-day conference that aims to strengthen interactions among Bay Area scientists and clinicians who share a strong interest in virology. The symposium features presentations by leading Bay Area scientists, roundtable discussions, a poster session, and opportunities for networking.
Registration is required. For additional information including directions and the symposium program, please visit http://bayviro.org/symposium/7/.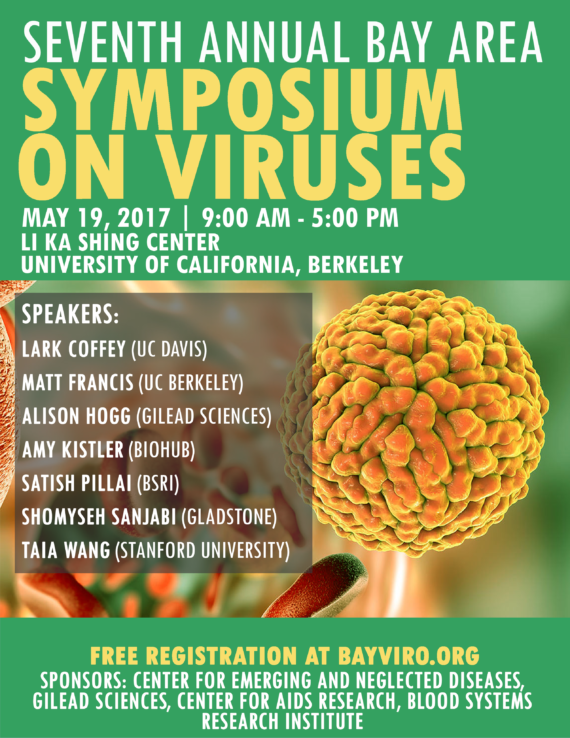 7th ANNUAL BAY VIRO SYMPOSIUM
Friday, May 19sth, 2017 — 9:00 am to 6:00 pm (reception and poster session to follow) UC Berkeley, Li Ka Shing Center Auditorium, Room 245
Symposium Agenda
8:00 AM Registration Check-In
8:45 AM Introduction and Welcome Remarks
9:00 AM Matt Francis , UC Berkeley— "Chemically Modified Viral Capsids For The In Vivo Delivery of Drug and Imaging Cargo"

9:30 AM Alison Hogg , Gilead Sciences— "Development of GS-5734: An Adenine Nucleotide Prodrug with Broad Spectrum Antiviral Activity for Treatment of Ebola and Other Emerging Viral Diseases"

10:00 AM Judd Hultquist , Krogran Lab, UCSF— "High-throughput Genome Engineering in Primary Cells for the Study of Host-Pathogen Interactions"

10:15 AM --------Coffee Break--------
10:45 AM Taia Wang , Stanford University— "'Activating IgG Fc Domain Repertoire Predicts Severe Disease in Secondary Dengue Infection"

11:15 AM Satish Pillai , Blood Systems Research Institute— "Markers and Modulators of the Latent HIV Reservoir"

11:45 AM Micheal Vahey , Fletcher Lab, UC Berkeley— "The value of being different: phenotypic variability and plasticity in influenza A virus"

12:00 PM --------Lunch--------
12:30 PM ------Panel Discussion-----
2:00 PM Lark Coffey , UC Davis— "Zika virus infection dynamics in experimentally infected mosquitoes and pregnant macaques"

2:30 PM Shomyseh Sanjabi , Gladstone Institutes— "Antiviral Immunity to Zika Virus in the Female Reproductive Tract"
3:00 PM Paul Jordan , Alios BioPharma— "Role of the Priming Loop on RNA Synthesis and Capping Activities in Respiratory Syncytial Virus Polymerase"
3:15 PM --------Coffee Break--------
3:45 PM Amy Kistler , Chan Zuckerberg Biohub— "Genomics-based Platforms to Enable High Throughput Comparative Virology"

4:15 PM Emilia Vanni, Arvin Lab, Stanford University— "Latency-Associated Transcript Locus is a virulence factor for lytic Herpes Simplex Virus 1 infection in human skin"

4:30 PM Poster Session and Reception
PARKING & DIRECTIONS
Getting to UC Berkeley: Public transit | Driving
Downtown Bekeley BART: Li Ka Shing Center is 5-10 minute walk from Downtown Berkeley BART.
Public Parking garages:

View UC Berkeley Visitor Parking Map in a larger map
Street parking: Metered and two-hour street parking are available around campus, but it can be hard to find a spot. More information.
The 6th Annual Bay Area Viruses Symposium took place on Friday, May 27, 2016
Learn more about the 6th Annual Bay Area Viruses Symposium, please follow this link.
Videos of Past Events