2019 – 2020 CEND Fellowships Announced!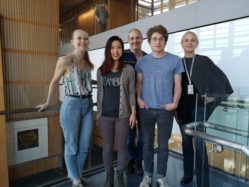 Congratulations to our 2019-2020 CEND Fellows!
Education is a core element of CEND's programming. Fellowships provided through CEND support several levels of trainees, including undergraduates, masters or doctoral degree candidates, and postdoctoral fellows, in their pursuit of research related to emerging and neglected infectious diseases. Our CEND fellowships are the Irving H. Wiesenfeld, Kathleen L. Miller, and Thomas C. Alber Science & Engineering for Global Health Fellowships. This year we have awarded 5 fellows with CEND funding to pursue emerging and neglected infectious disease research.
Click here to learn more about our new fellows.