11th Annual CEND Symposium Agenda ANNOUNCED!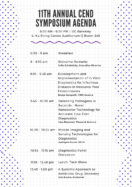 The Henry Wheeler Center for Emerging & Neglected Diseases (CEND) Annual Symposium aims to strengthen connections between scientists working on infectious diseases of global health importance and the broader global health research, product development, and advocacy communities. The focus of the 11th Annual Symposium is: Molecular Diagnostics, Antibiotic Resistance and Helminthic Diseases.
Friday, January 11, 2019 | 08:30 AM to 6:30 PM | UC Berkeley, Li Ka Shing Center Auditorium, Room 245.
Breakfast will be served 8:30 AM to 9:00 AM. Coffee will be served throughout the day and lunch will be provided. Following the speakers, a networking reception and poster session will be from 05:30 PM to 06:30 PM.
Speaker list:
Click here for a full agenda and list of topic titles.
Call for Posters!
This year's symposium will feature a poster session to complement the exciting line-up of plenary speakers. Posters are invited in topics relevant to the theme of the symposium. You may submit a poster title and abstract during your registration or via email with your name and affiliation to i.m.charles@berkeley.edu
Poster titles and abstracts must be submitted by December 28, 2018