Coalition for Epidemic Preparedness Innovations (CEPI) strives to develop new vaccines for emerging infectious diseases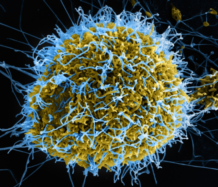 This coalition is gearing up for the fight against infectious disease. Here's what they're doing:
"Over the next 5 years, the CEPI plans to bankroll the development of vaccines against three viral threats—Middle East respiratory syndrome (MERS)-coronavirus, Lassa, and Nipah—so that small outbreaks never get a chance to become raging epidemics. Formed last year without serious funding, CEPI has received $100 million commitments from the Wellcome Trust and the Bill & Melinda Gates Foundation… As Science went to press, CEPI planned to announce the commitments at the World Economic Forum this week in Davos, Switzerland."
Read the full story at Science.