UC Berkeley Students Embark on Global Health Summer Fellowships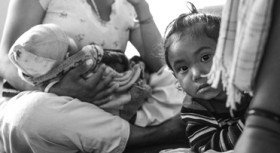 "Every summer, students from across UC Berkeley eagerly plan and prepare for overseas adventures. Many have ambitions to explore the world, learn new things, create lifelong memories, and seek adventure. And for some, high on the to-do checklist is to improve the lives of those less fortunate, in resource-poor communities far, far away from the sprawling green lawns and clear blue skies of the UC Berkeley campus.
Annually, the UC Berkeley Center for Global Public Health (CGPH/SPH) and the Henry Wheeler Center for Emerging and Neglected Diseases (CEND) award summer fellowships to both graduate and undergraduate students to pursue their passion for global health. This summer, twenty fellows have travelled far and wide to international sites and universities in 12 countries for faculty-mentored global health opportunities tied to large, collaborative global studies. Bay Area global health faculty and researcher mentors who support the students from day one hail mainly from UC Berkeley School of Public Health, as well a handful of faculty from UCSF Global Health Sciences; though many students also find mentorship in-country with local collaborators."
To continue reading this story, please visit the CGPH website. 
(Photo by CGPH global health reporting fellow Grace Lesser.)