TB Diagnostics Resources Available via Cal Alum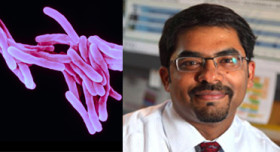 Dr. Madhukar Pai, MD, PhD, of McGill University has compiled a list of resources for diagnostics developers working in the tuberculosis field:
For additional resources and future updates from ongoing work on target product profiles and market analyses, please see: http://www.tbfaqs.org/
Dr. Pai completed his PhD in epidemiology at UC Berkeley. Today, he is an associate professor at McGill University in Canada and is recognized as a global leader in the tuberculosis diagnostic development field. CEND was fortunate to host Dr. Pai as a guest speaker at the 5th Annual CEND Symposium in 2013 and is pleased that Dr. Pai is returning to UC Berkeley January 9th, 2014 to moderate a panel discussion at the upcoming event  "Diagnostics by Design: A Workshop on the Design, Development, and Implementation of Global Health Technologies." To learn more about this event, please visit the Global Health Diagnostics (GHDx) Initiative page.
UC Berkeley Alum Madhukar Pai Discusses Diagnosis at the Point-of-Care