Applications open for Innovation Scholars at NITD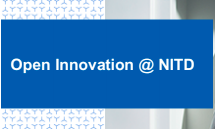 Open Innovation @ NITD was established by Novartis in partnership with the Bill & Melinda Gates Foundation to address fundamental research questions in drug discovery for global health.
As a collaborative, academic environment within the Novartis Institute for Tropical Diseases (NITD), Open Innovation @ NITD unites basic research with the infrastructure of a world-class pharmaceutical company.
Innovation Scholars will explore unique projects with the potential to contribute to solving global unmet medical needs. Scholars will contribute ideas to tackle fundamental research questions or technology gaps, while Novartis will provide state-of-the-art infrastructure and access to an extensive network of scientists across a wide range of disciplines throughout the global organization. Our collaboration will contribute to new therapies for global health and further the independent careers of the Innovation Scholars.
The current thematic focus of Open Innovation @ NITD is research directed to Plasmodium vivax. This widespread parasite has limited treatment options and is the next frontier in malaria elimination.
How to apply
Innovation Scholar appointments are three year fixed-term positions at the Novartis campus in Emeryville, located in the San Francisco Bay Area. Successful candidates will receive competitive salary and benefits, a research budget and the appropriate support for the project.
Submit your CV and one-page research plan addressing fundamental knowledge gaps in P. vivax discovery. Applications can be submitted throughout the year.
Please address questions to: OpenInnovation.NITD@novartis.com