Internship Opportunity: Phages for Global Health (starting October 2018)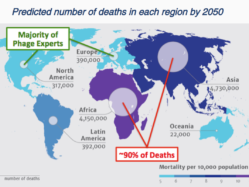 Phages for Global Health Internship Opportunity – Fall 2018
Internship Job Description
The Global Antibiotic Resistance Crisis: Did you know that antibiotic resistant infections are expected to cause 10 million deaths annually by 2050? That is 5 times as many deaths each year as HIV/AIDS caused during the deadliest year of that crisis. And developing countries will be hardest hit by antibiotic resistance, with almost 90% of the deaths expected to occur there.
Since antibiotics are losing their effectiveness, Phages for Global Health is training public health scientists in Africa how to develop cheap, natural antibiotic alternatives (phages) that can kill antibiotic-resistant bacteria. Through 2-week, hands-on laboratory training workshops, we teach scientists how to isolate and characterize phages from their local regions. Those African researchers are then able to both start their own phage projects and teach others to do so.
The Internship Opportunity Our next workshop is scheduled to be held in Nigeria during March 17-30, 2019, and an intern position is available for someone to help coordinate the logistics for the workshop. This will involve 5 months of remote work before the workshop (part-time up to 20 hours/week, beginning mid-October), with the option of also providing onsite logistical support in Nigeria during the 2- week workshop itself (full-time).
Specific Activities
• Facilitating the workshop participant selection process by organizing all of the applications and letters of recommendation for members of the review panel
• Responding to email questions from workshop applicants throughout West Africa
• Notifying the selected and wait-listed participants of their status
• Making travel and hotel arrangements for all of the workshop participants and staff
• Helping coordinate shipment of laboratory supplies to the workshop location in Nigeria
• Distributing logistical information to all participants and staff, including the syllabus, lab manual, pre-reading materials, and necessary visa and vaccination requirements
Qualifications
• Graduate or advanced undergraduate student; hands-on laboratory experience would be helpful, but not essential (non-science majors are welcome to apply if they meet all the other qualifications below)
• Extremely detail-oriented and responsible, independently following through on all required activities according to expected timelines
• Skilled at managing multiple organizational tasks in parallel
• Flexible enough to interact with people from a variety of countries and time zones, including those with variable internet/communication availability
More information is available at: www.phagesforglobalhealth.org
Interested students should send a CV and cover letter to Dr. Tobi Nagel at tobi@phagesforglobalhealth.org