May 19, 2017: 7th Annual Bay Area Symposium on Viruses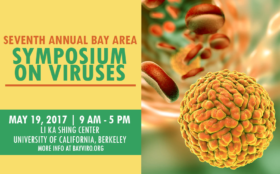 The 7th Annual Bay Area Symposium on Viruses will be held on May 19th, 2017 at the Li Ka Shing Center, UC Berkeley.
About the Network
The Bay Area Virus Network (bayviro.org) represents a constellation of scientists, engineers, and clinician researchers in the San Francisco Bay Area who are working to understand, prevent, and control human and animal viral infections. It is a platform for connecting investigators at universities, biotechnology and pharmaceutical companies, and research institutes throughout the region.
The SF Bay Area offers a unique ecology for virus research, with its long tradition of innovation. Our diverse community of investigators is led by distinguished scientists like Jay Levy at UCSF, who co-discovered the AIDS virus in 1983, and Edward Penhoet at UC Berkeley, who discovered the Hepatitis C virus and went on to found Chiron (which developed the first vaccine against Hepatitis B).
You can learn more about the symposium here and can register here.