January 26, 2017: "Mass Spectrometry Workshop for Biologists" Workshop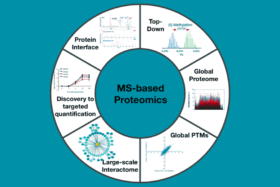 On January 26, 1:30-4pm, the Quantitative Biology Institute at UCSF and the UCB Center for Emerging and Neglected Diseases will co-host a workshop entitled "Mass Spectrometry Workshop for Biologists" at the Faculty Club, with a reception to follow from 4-5pm.
This CEND – QBI workshop is in collaboration with the Gladstone Institutes, Sanford Burnham Prebys and Thermo Fisher Scientific.
New innovations in mass spectrometry-based proteomics has revolutionized our understanding of many biological systems, but the barriers for incorporating these methodologies to our research programs are significant. The main goal of this workshop is to expose the biological research community to the cutting-edge of MS-based proteomics, but we will also explore how to make these techniques more accessible through collaborative work and infrastructure investments. The talks will be given by the researchers who are actually doing the work and pushing the envelope of what is possible with these techniques.
The workshop speakers include:
Ruth Huttenhain, UCSF—Discovery to Targeted Quantification

Jeff Johnson, UCSF—Global PTM Analysis

Robyn Kaake, UCSF—Protein Interface Characterization

Alicia Richards, Sanford Burnham Prebys—Global Proteome Analysis

Danielle Swaney, UCSF—Large-Scale Interactome Analysis

Shannon Eliuk, Thermo Fisher Scientific—Top Down Analysis
If you are a researcher, we hope you and/or someone from your lab join us in what we expect to be a stimulating afternoon.
If you have any questions, comments, or concerns please feel free to reach out to CEND's Program Coordinator Anny Lin at alin3491@berkeley.edu.