Feb 29, 2016: UC Berkeley Global Health Ambassadors at CUGH 2016 Scholarship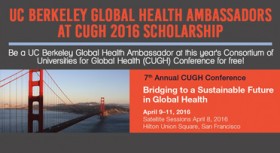 UC Berkeley Center for Global Public Health (CGPH) and the Center for Emerging & Neglected Diseases (CEND) are partnering up to provide students with an opportunity to attend this year's Consortium of Universities for Global Health (CUGH) Conference for free! The conference will be held on April 9-11, 2016 in San Francisco. We are excited to offer selected students with a stipend of $200 towards conference registration. This is an amazing opportunity to explore what the global health community has to offer. Students interested in global health are encouraged to apply for the scholarship. Don't miss out on this great opportunity!
To apply, please fill out the application here. The deadline to apply is February 29, 2016.
For more information about the conference, please visit the CUGH website.
This opportunity is supported by the Kathleen L. Miller Fund.