2018 MHIRT Research Fellowship Applications Open October 2017!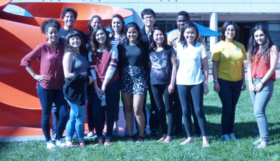 The Minority Health/Global Health Disparities Research Fellowship at UC Berkeley funds international summer research experiences for qualified Berkeley students. The program provides training in infectious disease research, with a focus on diseases that disproportionately affect people in developing countries.
The Global Health Disparities fellowship is funded through the Minority Health & Health Disparities International Research Training (MHIRT) initiative at the National Institutes of Health. It aims to increase diversity in biomedical and behavioral science research and support research training for students who will contribute to the elimination of health disparities that exist among disadvantaged populations in the U.S. and in developing countries.This fellowship is open to minority students who are considered under-represented in the biomedical sciences and students from medically under-served communities.
This UC Berkeley program leverages infectious disease expertise across a range of disciplines, including integrative biology, molecular and cell biology, bioengineering,computational biology,computer science, biophysics, environmental biology, epidemiology, and economics. The focus of participating faculty members is emerging and neglected infectious diseases, defined broadly to include HIV/AIDS, TB, and malaria (including emerging drug-resistant strains, which disproportionately impact low-income communities); emerging epidemics like avian influenza and SARS; as well as so-called "neglected" diseases, like dengue virus, schistosomiasis, and HCV. Infectious disease challenges do not recognize geographic boundaries, and thus form an important bridge between the wealthy world and the developing world.
For more information & application instructions, please visit: 
http://cend.globalhealth.berkeley.edu/ucbmhirt/